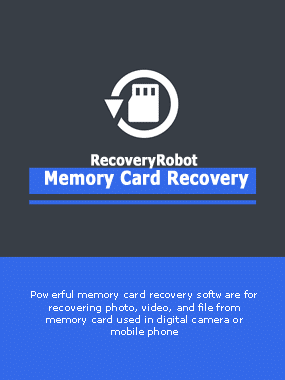 RecoveryRobot Memory Card Recovery | 1 Yr License | Instant Email Delivery | 30-Day Money Back |
Average rating: ⭐⭐⭐⭐⭐ 38 reviews
Price: $49.95 was $59.95
Discount: Additional 10% off on the discounted price, using code "10off"
Delivery: Instant electronic delivery to email address
Services: Free software upgrades, free technical service by email
Money Back Guarantee: 30 Days. We will recover your file or we will refund your money.
License: Non-commercial use for up to 3 PCs
Choose your License Type:

Get Additional 10% Off Using Code "10off" when Ordering Today.

Get Additional 10% Off Using Code "10off" when Ordering Today. After clicking the "Order Now" button, please check "I have a discount coupon", then enter discount code "10off" in the box and click the refresh button to apply the discount.
Average rating:
38 reviews
Apr 1, 2019
Works fine now I hope it lasts a long time too. Did a friends drive and recovered all his"valuable stuff". Does take time but well worth it.
Mar 31, 2019
What a great software, I was not aware about this software till I started using it. superb!! I deleted all the confidential data from my flash drive accidentally. But using this software I got my all the data with in minutes. I am really grateful to you guys.

Thanks.
Mar 29, 2019
As I am a photographer i have many photos of many peoples and one day my fault cost me and i formated my hard drive. I lost complete data of my computer,all the pics and documents.Then i started searching recovery softwares. Some are of big names and big sizes like 100mb or 200MB . I tried those softwares but all goes in vain.They ruined my time and money.But one day on facebook someone told me about RECOVERYROBOT SOFTWARE and i tried it.First of all i think it's size is 2.7 MB what this can do but this soft. made me wrong and recovered my 80% of digital data.Till by this date if someone asked me about recovery software i recommend him RECOVERYROBOT SOFTWARE.

Thanks for all your support
Mar 27, 2019
I am shubham. recoveryrobot is very important for me. my computer was stucked all the confidential data from my flash drive accidentally. But using this software I got my all the data with in minutes. I am really grateful to you .
Mar 27, 2019
A few months ago, I accidentally overwrote my entire hard drive, the 2nd one where I kept all my photos, documents…EVERYTHING I had been "collecting" for years. I was re-imaging my computer and, half asleep, I selected the wrong drive. Oh….disaster. There went my entire life (well, almost).

I went online and searched and read about all the available "Recovery Programs". Then I remembered that I had a copy of Recoveryrobot that I had saved on the cloud. Never used it, just tucked it away for a rainy day. Well, the storm had had hit! So I decided to try it. You know, RecoveryRobot recovered everything! Unbelievable! And it was so easy. In no time I had set it up and let it do it's magic. When it was finished, I had my entire drive back. I did not lose a single thing. Needless to say, RecoveryRobot is one piece of software I wouldn't be without.
Mar 26, 2019
From Zimbabwe, this is an exceptional recovery utility software; simple and effective. It's just 5 star, keep up the good work DataRecoveryRobot
Mar 26, 2019
I can never thank you enough RecoveryRobot and I will be telling all my friends about your wonderful product. I would highly recommend your software to everyone. By the way, I am listening to my recovered music as I write this!
Mar 26, 2019
I accidentally deleted some important files from my computer hard disk and Androids mobile phone. The RecoveryRObot Software Suite resolved my problem and I am now very happy to recover my important deleted files. Thanks for amazing RecoveryRobot Software.
Mar 25, 2019
We can't thank you enough for this great software and its magical ability to recover our family history of photographs. Now we all sleep soundly like the angel above knowing we have the photographs to share with them when they grow up and with generations to come.
Mar 24, 2019
Well the software did more magic for me because i work at a Cybercafe and lots of client come with issues of lost or mistakenly deleted files on their device storage….. Thanks to RecoveryRobot always on the rescue and i bring a brighter smile to my client faces…….