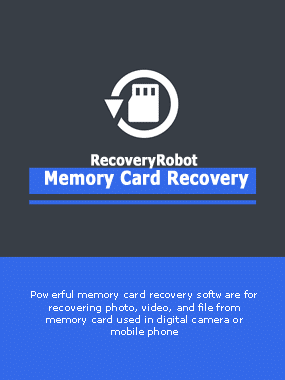 RecoveryRobot Memory Card Recovery | 1 Year License | Instant Email Delivery
Average rating: ⭐⭐⭐⭐⭐ 60+ reviews
Price: $49.95 was $59.95
Discount: Additional 10% off on the discounted price, using code "10off"
Delivery: Instant electronic delivery to email address
Services: Free software upgrades, free technical service by email
Money Back Guarantee: 30 Days. We will recover your file or we will refund your money.
License: Non-commercial use for up to 3 PCs

Get Additional 10% Off Using Code "10off" when Ordering Today.

Get Additional 10% Off Using Code "10off" when Ordering Today. After clicking the "Order Now" button, please check "I have a discount coupon", then enter discount code "10off" in the box and click the refresh button to apply the discount.
| | | | |
| --- | --- | --- | --- |
| | Home | Expert | Business |
| Recover photo, video, audio, files from various memory card types | | | |
| Recover unlimited amount of data | | | |
| Use in a business or commercial entity | | | |
| Use on all computers in one company | | | |
| Use as a technical service | | | |
| Free software upgrade service | | | |
| Free technical support on demand | | | |
| Number of supported PCs | 3 | 10 | Unlimited |
| License Period *Year | 1 | 1 | 1 |
| | $49.95 | $99.95 | $299.95 |
| | Buy Now | Buy Now | Buy Now |
Average rating:
75 reviews
Mar 11, 2020
More stars needed
I've used many data recovery programs over fourty years, never have I used one as efficient, user friendy as RecoveryRobot Pro

Sceptical, as always when trying other software, especiallt data recovery programs.

RecoveryRobot Pro is beyond all my expectations and I'm tech savy.

Outstanding software, I am now a loyal follower ... cheers
Mar 10, 2020
Skeptical but impressed!!!!
I must say seeing this recovery program I was a skeptic, but that's my nature. I had a fail hard drive that the manufacture charged me almost 2500$ to recover. I was determined to not pay that, along came DataRecoveryRobot, [the best recovery program to date, in my opinion]

Immediately after installing the program saw my drive, this was a drive I had not seen in 3 years but was waiting for the services to cost less in the future like everything does overtime before I get it recovered. 3 years later and it's still costing about 1500$ but with this program, it literally cost pennies for the value the data on the drive meant to me.

Thanks again for making a robust software. You got a customer for LIFE.

If you're out there and a skeptic like myself, take the leap and try these guys, it would be the game changer you were looking for.

To the developers of this program. Keep up the good work. As far as the registration key goes, make it stand out, whether changing the color or making it bigger because initially, I was unable to late the key to enter my code.

But As I said earlier, Keep Up The Awesome Job
Feb 28, 2020
impressive!
scan was very fast. looks like it found all the files I was looking for. just bought a license code to recover them. I will probably not let my grandson play games on my computer any more. It was working before he arrived, but when he left, it was not.
Feb 13, 2020
Empfehlenswert
I have been using the program as a professional IT supporter since 2018. Since then, I haven't used any other recovery tool. It has more than met all my expectations: fast, reliable and very user-friendly..... it just does what it's supposed to do.

Thanks RecoveryRobot!
Feb 9, 2020
What A Beautiful Program
thats was very beautiful program,cant using CPU and GPU so much and very soft.
very fastest one,i recovered my all lil cats and gaming nigths...thank you...
Dec 5, 2019
superlatively Rzcoved
Finally a great recovery program, I have tried so many recovery programs, I am an expert, The recovery robot does everything claimed and did it faster which was never claimed and I believe the fastest one too.

Some programs take so long, it felt like a whole day went by and it is say it is close to finishing, >The mn as it finished a pop up message stating a second program is need to recover the files no now it asks for another program from the same software company , but it was advertised to recover full partitions lost very is selling the very program stating partition recovery now needs file , don't the files in the partition get recovered too?

This Robot is the cat's meow, in recovery software, it recovered everything and did not take much time or ask for more programs to finish, or worse claim the drive is junk, no files can never be recovered and is just like some of the other recovery programs I tried, nothing was ever recovered or the hours and hours using the rest out there so if you retired time after time to recover a lost file like me and got both programs thinking finally! No, now it is say it is unable to recover anything and the drive is corrupt

Get recovered from nothing recovered syndrome and download recovery robot now, today and recover the lost files in your system once and for all. I did and it works like magic, thanks robot recovery.
Nov 27, 2019
data recovery rroboit
Excellent software, quite fast but extremely effective and easy to use. I have achieved excellent results. I highly recommend it.
Nov 4, 2019
Recovery Robot Pro
Excellent recovery program. It is very fast and accurate. It recovered all my lost data caused by an error in shutting off the computer.
Oct 31, 2019
Very good software
Very good software to use for recovering all kinds of memory source
Oct 24, 2019
Really helpful data recovery software
Personally I feel it very good. Also it is free to try.