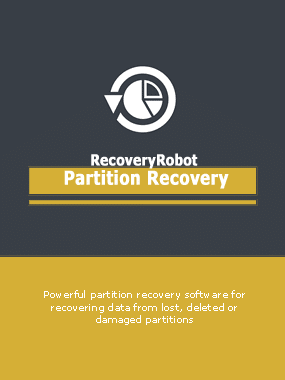 RecoveryRobot Partition Recovery | 1 Year License | Instant Email Delivery
Average rating: ⭐⭐⭐⭐⭐ 60+ reviews
Price: $49.95 was $69.95
Discount: Additional 10% off on the discounted price, using code "10off"
Delivery: Instant electronic delivery to email address
Services: Free software upgrades, free technical service by email
Money Back Guarantee: 30 Days. We will recover your file or we will refund your money.
License: Non-commercial use for up to 3 PCs

Get Additional 10% Off Using Code "10off" when Ordering Today.

Get Additional 10% Off Using Code "10off" when Ordering Today. After clicking the "Order Now" button, please check "I have a discount coupon", then enter discount code "10off" in the box and click the refresh button to apply the discount.
| | | | |
| --- | --- | --- | --- |
| | Home | Expert | Business |
| Recover data from local hard drives and external storage devices | | | |
| Recover unlimited amount of data | | | |
| Recover data on Windows Server 2008/2003 | | | |
| Use in a business or commercial entity | | | |
| Use on all computers in one company | | | |
| Use as a technical service | | | |
| Free software upgrade service | | | |
| Free technical support on demand | | | |
| Number of supported PCs | 3 | 10 | Unlimited |
| | $49.95 | $99.95 | $299.95 |
| | Buy Now | Buy Now | Buy Now |
Average rating:
70 reviews
Dec 5, 2019
superlatively Rzcoved
Finally a great recovery program, I have tried so many recovery programs, I am an expert, The recovery robot does everything claimed and did it faster which was never claimed and I believe the fastest one too.

Some programs take so long, it felt like a whole day went by and it is say it is close to finishing, >The mn as it finished a pop up message stating a second program is need to recover the files no now it asks for another program from the same software company , but it was advertised to recover full partitions lost very is selling the very program stating partition recovery now needs file , don't the files in the partition get recovered too?

This Robot is the cat's meow, in recovery software, it recovered everything and did not take much time or ask for more programs to finish, or worse claim the drive is junk, no files can never be recovered and is just like some of the other recovery programs I tried, nothing was ever recovered or the hours and hours using the rest out there so if you retired time after time to recover a lost file like me and got both programs thinking finally! No, now it is say it is unable to recover anything and the drive is corrupt

Get recovered from nothing recovered syndrome and download recovery robot now, today and recover the lost files in your system once and for all. I did and it works like magic, thanks robot recovery.
Nov 27, 2019
data recovery rroboit
Excellent software, quite fast but extremely effective and easy to use. I have achieved excellent results. I highly recommend it.
Nov 4, 2019
Recovery Robot Pro
Excellent recovery program. It is very fast and accurate. It recovered all my lost data caused by an error in shutting off the computer.
Oct 31, 2019
Very good software
Very good software to use for recovering all kinds of memory source
Oct 24, 2019
Really helpful data recovery software
Personally I feel it very good. Also it is free to try.
Oct 16, 2019
very good software
This is the best data recovery software I have ever used. I strongly recommend it.
Sep 26, 2019
Super
Key features of the software almost cover all requirements of data recovery. Hopefully it becomes no 1 data recovery software in future.
Sep 16, 2019
Unparalleled recovery experience
I have used it from 7-data, it is really good, still improving. I have used many domestic recovery software, and I was very disappointed. Especially when the files on the desktop are deleted, it is difficult to recover.
Sep 6, 2019
Good app
Tested and good result.
Aug 10, 2019
Great recovery sofware
Very good software to use for recovery all kind of memory source. It is user friendly on the interface. And it really scan deeply to get all the formatted files back to life... really amazing and powerful software that I ever try out....