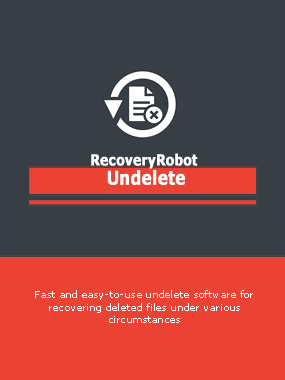 RecoveryRobot Undelete | 1 Year License | Instant Email Delivery
Average rating: ⭐⭐⭐⭐⭐ 90+ reviews
Price: $49.95 was $69.95
Discount: Additional 10% off on the discounted price, using code "10off"
Delivery: Instant electronic delivery to email address
Services: Free software upgrades, free technical service by email
Money Back Guarantee: 30 Days. We will recover your file or we will refund your money.
License: Non-commercial use for up to 3 PCs

Get Additional 10% Off Using Code "10off" when Ordering Today.

Get Additional 10% Off Using Code "10off" when Ordering Today. After clicking the "Order Now" button, please check "I have a discount coupon", then enter discount code "10off" in the box and click the refresh button to apply the discount.
| | | | |
| --- | --- | --- | --- |
| | Home | Expert | Business |
| Recover deleted files from local hard drives and external storage devices | | | |
| Recover unlimited amount of files | | | |
| Recover files on Windows Server 2008/2003 | | | |
| Use in a business or commercial entity | | | |
| Use on all computers in one company | | | |
| Use as a technical service | | | |
| Free software upgrade service | | | |
| Free technical support on demand | | | |
| Number of supported PCs | 3 | 10 | Unlimited |
| | $49.95 | $99.95 | $299.95 |
| | Buy Now | Buy Now | Buy Now |
Average rating:
92 reviews
Oct 14, 2020
recover software
this recover software is one of the best i have used
Oct 10, 2020
Useful
Thanks a lot for recovering the data.
Sep 12, 2020
Awesome!!!
My SSD broke and didn't show up in Windows. I booted into safe mode and hoped the program would find the hard drive there.
Well so found and the files came up, thank you very much.
Sep 10, 2020
Romjan
Excellent and nice software. I could recover my deleted data from my SSD easily.
Sep 7, 2020
6 estrelas
No words, just you guys to care about the pain of loss, sensational 6 stars
Aug 28, 2020
It's an excellent program and it's not expensive either.
Aug 22, 2020
super program
Really great program. Easy and clear to use. You can see your lost photos and choose the ones you want to recover.
Jul 8, 2020
WOW
I have no proper words to say how nice the RecoveryRobot software. I could recover my deleted video from my SD card easily. I love it. Excellent Excellent Excellent
Jun 23, 2020
Keran
Thanks a lot!!!

It is an excellent program that is also not expensive. Accidentally, the child had been removed from the hard disk with all the skills. The disc was empty. I asked several places how I could recover the data. Prices ranged from over 200 euros to 1,000 euros.

This is the first time this has happened to me. It took about 10 hours and now almost all the data has been restored.

Thank you very much once again !!!

 
Jun 8, 2020
Отлично! SSD - не проблема!
SSD Sumsung 970 EVO Plus... Not that word sadness, data for 3 months accumulated by hard work, as one ... It's over. Usually such devices are useless to turning. But... turned on the eyes of this wonderful program, on some promotion. And a little miracle happened! In the wildest way, she scanned this SSD, laid out in front of her nose its contents as a stupid user, on the folders, with a preview, and gave the opportunity to tick the files needed for recovery. After that, I asked where to dump the recovered and for very quickly already happily fumbled on precious files ... It's necessary... I shake all hands, which even in a small way have attached to the creation of this program! It's a masterpiece!